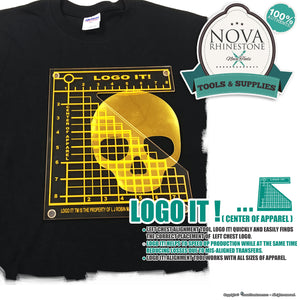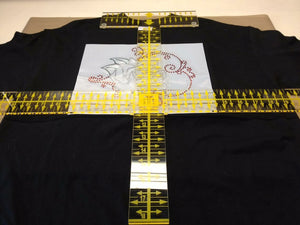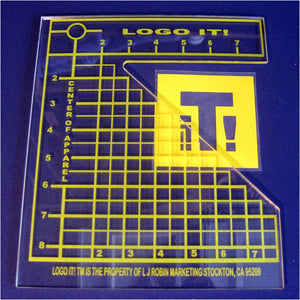 Product image 1

Product image 2

Product image 3

Tee Square It! #3
Properly align and center the transfer on every application heat pressed

Quick, accurate, and highly effective.

Save time and money by eliminating costly mistakes.

 


Logo It! 

Left Chest Alignment Tool, Logo It! quickly and easily finds the correct placement of the left chest logo. 

Logo It! helps to speed up production while at the same time reducing losses due to misaligned transfers. 

Logo It! alignment tool works with all sizes of apparel.



---
How to Use Tee Square It!
Place the Tee Square It! on top of the garment and line up the vertical arrows on the top of the "T" to the side collar seams to ensure alignment at the top is correct. The Center bar should automatically be centered

Place the horizontal width bar on top of the center T-bar below the sleeves. Make sure numbers on each side of the width bar on the garment are the same, thus ensuring the Tee Square It! is centered.

Slide your transfer design under the Tee Square It! and determine the desired vertical placement. Next, align each side of transfer equal distance from the center bar. Slide width bar down to the bottom of transfer to make sure transfer on the parallel line.

How to Use Logo It!
Place the circle, located at the top of the Logo It! alignment tool on the center of the collar seam.

Place your logo transfer on the shirt under the Logo It! alignment tool. Logo It! features four feet which lifts the Logo It! off the surface of the shirts making it easy to slide the transfer underneath

Position the transfer in the desired position on the shirt. Make a note of the grid mark location to place subsequent transfers at the same grid mark location to insure placement uniformity for all the shirts in the job.